I've been spending a lot of time recently (the last 31 years) overthinking about things - mostly about myself. I don't want to know how much time I've spent looking back at the times I have been overthinking, to then overthink about why I was overthinking... Ohhh the circles I've gone round in!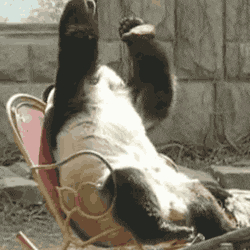 Long story short: about two years' ago I admitted to my family and friends that I have depression. Yep, hello I'm Mandy and I have depression. Turns out my family weren't surprised to hear the news in fact they were relieved I'd finally admitted it, but most of my friends were shocked to find out that the bubbly Mandy they know or work with actually isn't such a happy bunny after all! 
Overthinking things and worrying about nonsense has resulted in a few problems for me; one thing being depression. I say a few problems, it's likely to be many and I've just not identified them all or perhaps I'm just not willing to admit to them yet. 
Anyway, I won't go into the dullness of my depression now, (God I try my hardest to stay out of it myself!) I'll perhaps save that little treat for a rainy day. So instead, what I will go in to is how worrying and overthinking literally everything about how I look, how I think people think I look, what I think people might be thinking of me, what people might be saying about me, how people might be judging me in a continuous non-stop loop (aka low-self esteem) has put me into that ever-so dark place at times. 
I still haven't quite figured out exactly why it is that I have this low-self esteem, however I do recognise it is due an accumulation of factors that I can't be bothered to go in to right now. What I have figured out though is that I need to change the number one item on my to do list from "overthinking" to "who gives a f...". That is sooo much harder than it sounds though.
I'm doing some cognitive behavioural therapy (CBT to those in the know) to try and learn some tactics to step away from the dark side. So far I've learnt I already knew the basics, I just need to remember to use these tactics rather than casually moonwalk in to the old routine of "I bet they think I'm fat/ugly/tango'd/pale/frumpy/bit too curvy...". 
The tactics include thinking: is this a hypothetical concern or is it an actual issue that you can have influence over? More often than not my concern is a hypothetical theory that I've conjured up and spent too much time thinking about and now missed a key action that's been dished out to me in an important meeting at work! 
So in an effort to stay on the not-so darkside my new to do list looks like:
1. Stop over thinking
2. Stop trying to please everyone and please yourself instead
3. Stop thinking you're not good enough
4. Stop being afraid of being yourself (need to complete figuring out who myself is too)
5. Remember that self confidence is rather attractive! 
6. Repeat steps 1-5 
7. Buy milk



Please reload