For Aimee
"To wing: it is an idiom that means to improvise, to do something without proper preparation or time to rehearse. People often talk about winging it when they have to do something difficult that they didn't have time to prepare — like a make speech or give a presentation."
Apparently, I'm quite the expert when it comes to "winging it". The first time I was told this I was somewhat insulted and also highly embarrassed to be considered in such a way because I thought it meant I just bullshitted my way through my career! But when I sat back and reflected on what it means to be able to successfully "wing it" in a work environment, I ended up feeling quite flattered.
I recently received an email from a senior colleague in another organisation who said they'd miss working with me because of my "frank honesty and great working style". Quite the compliment! But of course my "overthinking it/self-depreciating" brain kicked into gear and I couldn't help but ponder… was this feedback a polite way of saying "Mandy you are so blunt at times and I have no idea how you manage to blag your way through life"?
I appreciate my colleague probably didn't mean it that way (I just need to learn how to take a compliment). I asked another colleague what they thought it meant and she said it possibly was in reference to my ability to "wing" things!
A couple of years ago this sort of statement would have made me panic and I am still learning how to grow in confidence re my "winging it" approach to certain things. I should probably add it to my list of "things I like about myself" that I'm trying to compile at the request of my CBT therapist!
I think by acknowledging my "winging it" approach as a positive trait proves helps me to remember not to doubt myself and focus on my abilities rather than home-in on the negatives I see in myself.
I get told in work by colleagues they "don't know how you do it [wing it]" or come to me saying they're not confident in themselves and wish they "winged it" like I do. I need to remember that I'm just multi-tasking at work and seemingly quite good at it.
In work I like to be busy. I'm not comfortable when my to-do list shrinks so I end up taking on additional tasks (even the sorts of tasks people normally avoid because it involves having to say "no" to those difficult twa…characters that exist in every organisation).
Having a continuously hefty workload means I often don't realise how many plates I'm incessantly spinning, (yes, I have considered joining the circus, just not due to any plates), but it means I'm always prioritising whether or not I should actually spend some quality time on something or if I can afford to just think on my feet.
More often than not I opt for the latter. Laziness perhaps? (Probably). However, putting that positive PR spin onto my approach to work; I actually think it shows I can operate well under pressure, I don't get hung up on all the details, I just want the headlines in 140 characters as I'm already thinking about any wider implications and next steps that might be required.
I actually envy people who divulge and analyse because it takes incredible dedication and analytical skills. I think I just get distracted too easily and continuously flip between tasks – which means winging it isn't always the safest approach!
However, this skill is clearly something that other people wish they could do and look to me for advice on how to act without prior thought.
So… note to self confidence: continue to accept that what I see as a negative is often a positive for others!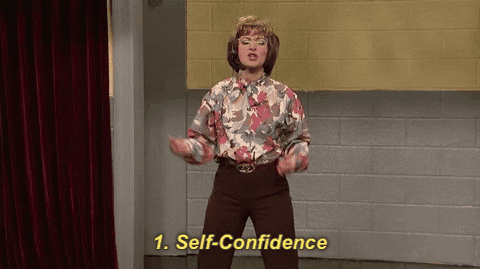 Please reload