When I've told friends or family about me having battled with depression, anxiety and low self-esteem for many years, often their response has been: "Are you being serious… I had no idea?"
I can never decide if I'm relieved they didn't know the truth, or I feel like I've let them down and feel like a two-faced liar. Either way, I am ready to receive my Oscar for "best actress".
I find it scary that I managed to hide my emotions from people that I am so close to for so long. That "mask" I wore was well and truly glued (with cement and fake tan) on my face and only the unfortunate few got to see me with it partially removed.
Some (I repeat; SOME) of the reasons I held back from talking about myself openly with friends and family until recent months included:
English peeps are the ultimate experts in avoiding talking about feelings… and based upon my ancestry.co.uk family tree I am majorly English

I was scared that people would end up thinking that our relationships were based upon lies (which was all my fault for not having done/said 'something' sooner) – I recognise this is ludicrous, but it was a genuine concern that I have now shaken off

I assumed some people might avoid me because they didn't know how to talk to me any more and thought I would just cry on them – some people have actually stopped contacting me since I have spoken so publicly, but that's their issue/loss, not mine

I was scared some people would just see me as a statistic ("one in four of us have mental health issues")

I was certain that people would think I was depressed because I was single and they'd think I just need to get a boyfriend and it'd fix all issues (this "advice" has genuinely been said to me previously…)

I didn't want to be tarred with the ridiculous stigma that is associated with people having any mental health issues (we all have a brain for god's sake so let's get rid of the stigma because one day it could be you who's sitting in an office with a counsellor)

I feared I might bitch-slap anyone who I hear saying something along the lines of "just needs to get a grip" and I can't be arsed having to get my ladders out to reach their faces nor deal with any consequences of getting a criminal record

I have found it draining to feel like I needed to justify "why" I have depression in fear that people will assume I'm exaggerating feeling a bit sad

I couldn't always find the words to try and explain my thought process to help explain "why"

I didn't want to be seen as weak
Have you noticed that the above bullet points is just a long list of my paranoia and negativity seeping through? I laugh at myself now when I get anxious about mentioning things because whenever I have opened up I've been greeted by an overwhelming amount of love and concern… often by the most unlikely candidates who give me nicknames like "Spinster" (Nick Beswick!).
Since opening up to people (and in particular admitting things to myself) I've felt the biggest weight come off my shoulders. It's been incredible. A transformation that two years ago I would have in no way believed possible when I plummeted to one of my lowest times. I really started to associate with the Game of Thrones phrase "winter is coming" and assumed that I would never be able to get away from the continuously cold downward spiral and the all-consuming feeling of dread and "pffffft".
Opening up to people, seeing a counsellor and writing things down in this blog aren't the only thing that've helped me. Self care is a huge factor in how I've made it through to the other side. I can't stress enough how important self care is and how it's something that we should all do.
Self care example 1: Going for a massage isn't about being a diva with too much time on their hands – it's about removing tension from your body and in my case removing tension that I unintentionally put upon myself.
Self care example 2: Visiting the osteopath every couple of months isn't just because I've got a knot in my shoulder – it's about looking after my body and helping relieve any additional discomfort that is likely to impact on how I am already feeling.
Self care example 2 continued: You might know I am ridiculously hyper-mobile (double-jointed to those who are wondering what that means). Hyper-mobility means my body is never still and I am subconsciously always working to try and stand up straight, walk without my ankles rolling over etc… A few years ago I learnt that my hyper-mobility isn't actually just a party trick and I actually have a medical condition; Ehlers-Danlos Syndrome (google it because I can't be bothered explaining it).
This revelation that I wasn't just "weird and bendy" helped explain something to me about myself that privately I have always been incredibly self-conscious of. My entire life I have laughed along at the mockery of how my fingers might bend a bit too far or my joints crack, but when I'm honest about it all this hyper-mobility stuff hurts. Yes it's just part of me and something I'll never fix but by visiting the osteopath to help me with the aches that accompany the hyper-mobility is another example of me trying to look after myself. By relieving my muscles and joints it makes me feel happier, which in turn helps reduce any low mood that might already be present etc.
My osteopath has been one of my guardian angels over the last few years, she has never judged or mocked, she's always listened, helped and literally taught me about my own body. I owe her a lot. (Katherine Bagley works in Leeds for anyone who wants to get themselves an appointment!)
Self care example 3: Putting myself and my health first is the biggest part of self care that I've achieved. If I didn't put myself first I was never going to get off the merry-go-round. Spending time with people who are unaware of how their behaviour impacts on me and my mental health is fundamental. So something I have to do for myself is occasionally side-step and limit interactions with certain people to avoid the negativity.
Most people in my life know about my depression, anxiety and low self esteem now, quite possibly from reading this blog. And I've no shame in admitting to it nor am I shy about talking about it. I'm sorry if by me talking about it makes them uncomfortable but I'm eager to help eliminate the mental health stigma and talking is a great step forward in helping to achieve that.
Someone you know might need to talk but they won't because they've got a list similar to mine or they're scared of the stigma around discussing emotions. We're all guilty of saying "I'm fine" (when really, we feel like Ross Gellar in that amazing episode of Friends when he finds out about Joey and Rachel!).
To help eradicate the stigma and to weaken that very-English approach to discussing emotions, instead of waiting for someone to turn to you and ask for help, perhaps tell them how you are and what goes on in your head. By you opening up to them, it might help them to open up to you. It might not be immediate, but it might help them step off the mental health merry-go-round and in to a healthier place.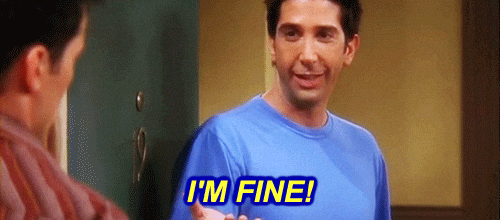 Please reload